Snugg iPad Pro Keyboard Case, Wireless Backlit
Bluetooth, 360° Degree Rotatable Keyboard for:

iPad Pro 11" (2018 - 1st Gen)
iPad Pro 11" (2020 - 2nd Gen)
iPad Pro 12.9" (2018 - 3rd Gen)
iPad Pro 12.9" (2020 - 4th Gen)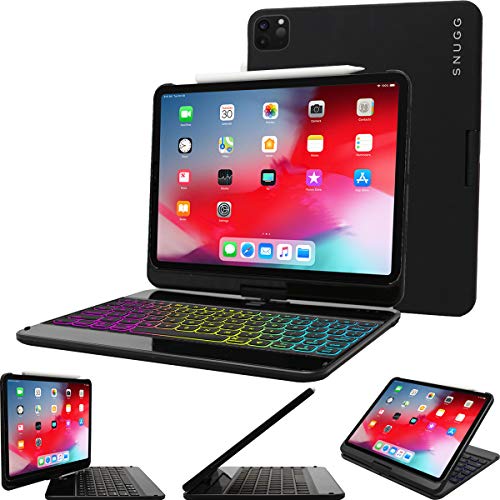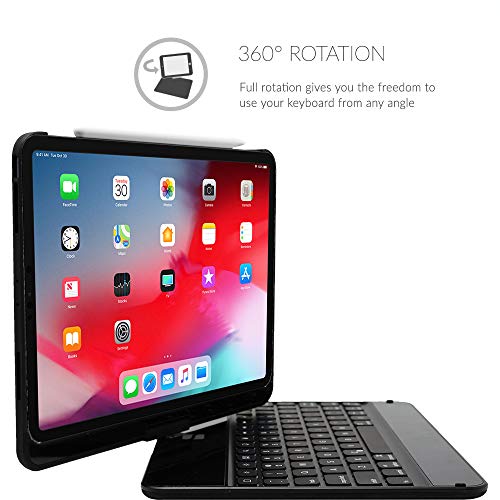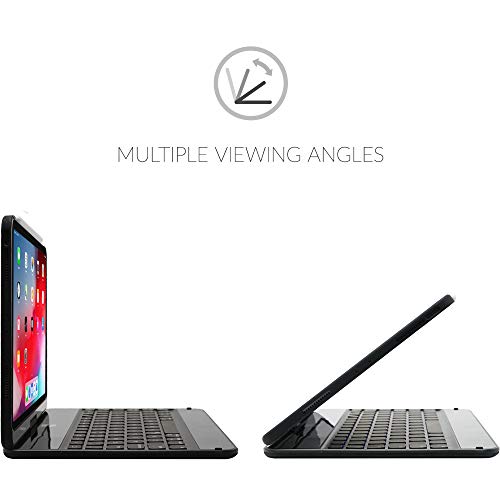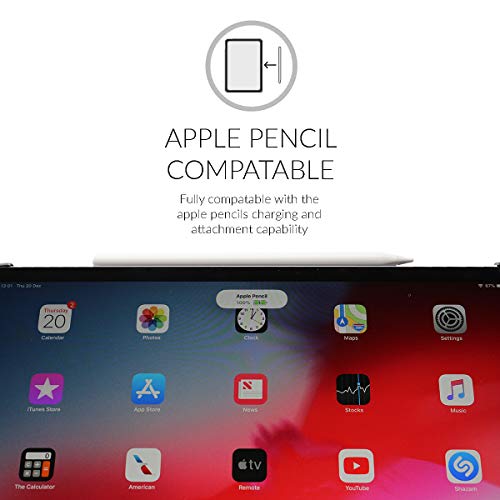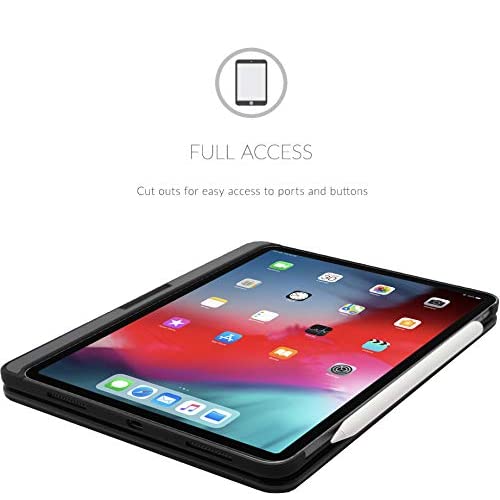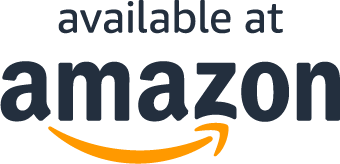 About the product
BACKLIT KEYS for easy typing
PERFECTLY PORTABLE: whether you're a blogger, writer, designer, professional or student, iPad keyboard case offers you a smart, stylish and practical solution to your everyday needs.
FULL ACCESS to all ports while it's cased
What Our Customers Are Saying
Another brilliant 2018 iPad Pro accessory that works perfectly
Why didn't I find this in 2018? Just shows how hype can get an inferior product news coverage whilst a far superior one isn't even on the radar. This swivel case/keyboard embarrasses both the overpriced poorly designed Apple one (that costs almost 3 times as much) and the controversial Brydge keyboards. 1. The top part that the iPad snaps into joins to the keyboard using a swivel mechanism like the innovative Windows CE convertible laptops of over 15 years ago. This means that unlike any other iPad keyboard/case combo, you can swivel the screen (iPad!) around and fold it down over the keyboard (protecting the keyboard in the process) and use the iPad as in regular tablet mode (even if twice as thick). Or 2. In regular 'laptop mode', the keyboard itself has the best keys of ANY mobile keyboard (laptops included) I have ever used. Deep travel, responsive, comfortable to type on. Best of all, the backlighting is outstanding. Either all the same colours (at 3 brightness levels) or multicolour, like on a gaming laptop! 3. The outside of the case/keyboard is a matt finish, fingerprint magnet, but slightly grippy. 4. Charges using USB-C. 5. My only critisism is the lack of a holder for the Apple Pencil, so you have to rely on it magnetically attaching to the iPad, risking it falling off in your bag. (I have inserted a stylus holder from a since disposes of HP convertible laptop that fits nicely into the gap between the iPad and the case. But few people will be able to get hold of something like that.) Anyway, this case/keyboard literally is the first accessory that, in conjunction with iPadOS 13.3 really does finally turn the iPad into a proper computer. I have just migrated entirely off MacOS and Windows and am using Lumafusion, Google Drive, Slack, Shapr3D and other apps to run the show without any issues.And now of course (mid March 2020), Apple have announced the new 2020 iPad Pros and Magic Keyboard, so things can only get better, although even Apple's new funky $300 Magic keyboard lacks the ability for the iPad to lay flat like a tablet or the multicoloured backlighting. Unless you intend to get the Apple Magic keyboard, get this one, you won't have any regrests. A life changer!
Great for artists
I'm very happy with my purchase. As an artist I tend to go back and forth between using the tablet for drawing and needing to use it as a laptop. I used to carry my tablet and my laptop separately to accommodate both those needs, but with this keyboard I can perform a lot of my basic functions without having to drag my laptop around, so that makes up for the sturdy weight of the snugg keyboard. I like that I can swivel the iPad easily between modes, and the case is sturdy enough that I can even pose it as like a drafting table and press my palm against the screen when I draw without the thing collapsing. The keyboard shortcuts work intuitively with the iOS, which amazes me to no end. You can control audio, brightness, and tab between applications. The backlit keyboard is a really nice touch. The only thing it's missing for me is a better protection for the Apple Pencil, as it can fall off sometimes in my bag and I'd love if there was some kind of security clip attached, like I've seen on some other models, but otherwise I'm very satisfied with this device.
Auch als QWERTZ-Tastatur brauchbar
Zwar ist das eine QWERTY-Tastatur, entscheidend ist aber die Einstellung am iPad: Die ist bei mir QWERTZ und ich schreibe insofern ganz normal. Wer will, kann sich die Tastatur auf dem Bildschirm zeigen lassen, um die Umlaute usw. leichter zu finden. Eine günstige und schicke Lösung.
This keyboard/case is awesome. It is pretty heavy
This keyboard/case is awesome. It is pretty heavy, but gives the iPad the functionality of a laptop. The different screen positions have come in super handy. Typing is easy and the keyboard is super responsive. Battery life is quite long.Overall I have been super impressed with this product. I prefer it over the Apple keyboard.One thing I would love to see is a small track pad. This would make my Snugg complete 😊
bella
bella comoda resistente, perfetta per l'iPad da 12. . i tasti non corrispondono proprio tutti, e le lettere sono adesive, ma devo dire chene sono soddisfatta.
product incomplete
the product is very good but I haven't used it yet. I am hoping to purchase a 11" ipad to fit in to it.
Questions?
Does this include free shipping?